Recently, with rapid advances in information technology, it has become possible to remotely view real-time EEG waveforms. In addition to IT, the development of new equipment has made it possible to measure EEG waveforms more easily than ever before. Neuromonitoring is used in ERs and ICUs to observe various invisible brain conditions. Since we at Nihon Kohden have developed various devices, we can create synergy between each of those  devices.
1. EEG monitoring in the EMU (Epilepsy Monitoring Unit)
The EMU plays a very important role in the diagnosis and treatment of seizures and epileptic seizures. The room is designed for long-term monitoring and is the place where epilepsy is detected, diagnosed, and treated. During monitoring, long-duration video EEG is used to evaluate the diagnosis and treatment of epilepsy.
How can we improve the operation of EMUs?
Nihon Kohden has solutions to improve the quality and operational efficiency of EMUs.
Image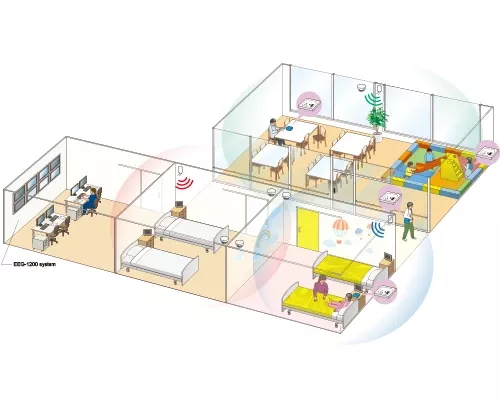 1-1. Challenges in the EMU
The caregivers are not aware of disconnected electrodes or increased impedance until they go in front of the EEG machine.
If the caregivers are unaware of disconnected electrodes or of poor measurement due to increased impedance, there is a possibility that epilepsy occurring during that time may be missed (because it cannot be determined by the camera alone).
How can monitoring be done efficiently?
The Live View Panel (LVP) enables centralized management of the monitoring status of multiple EEG machines.
Image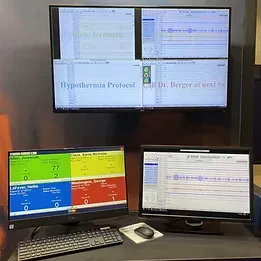 By being able to view measurement screens in one place, it is possible to respond immediately to any problems that may occur (measurement failure due to increased impedance, electrode disconnection, mechanical failure, etc.).  
Improved operational efficiency is achieved by being able to view multiple monitoring screens at the same time (There is no need to go around to each bed to see what is going on). The LVP can also operate the electroencephalograph, so it is possible to view past data during measurement and to change the montage to what you want to see at any time.
Visit the Nihon Kohden group company website below for details
1-2. Challenges in the EMU
Patients undergoing prolonged EEG to detect epilepsy are usually in good health and likely to want to move around freely.
Our wearable wireless input unit gives freedom to the patient!
aireeg WEE-1200 allows the patient to be relatively free to move around. Especially in the case of children, it can prevent electrode disconnection due to movement.
Image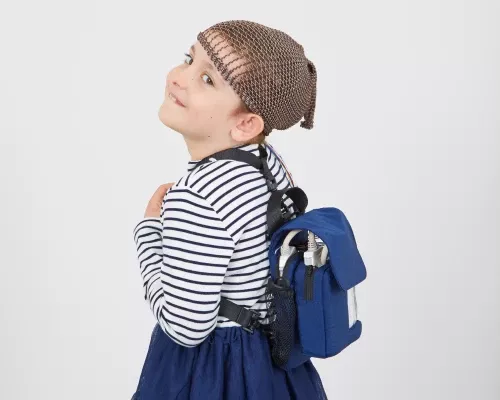 1-3. Challenges in the EMU
High Frequency Oscillations (HFOs) and Slow DC Shift are two of the major topics in the field of clinical epilepsy research, and many papers have described HFOs and DC Shift as new biomarkers of epileptogenicity. HFOs at seizure onset in intracranial EEG is also said to be potentially useful in improving epilepsy surgical outcomes. Although it has attracted attention as an important biomarker, it is difficult to interpret.
Wide band analysis supports you!
Nihon Kohden's wide band analysis assists in the continuous interpretation of HFOs and Slow DC Shift and the analysis of the relationship between the two. HFOs are time-consuming to interpret, thus Nihon Kohden's wide band analysis reduces the burden on healthcare professionals.
Image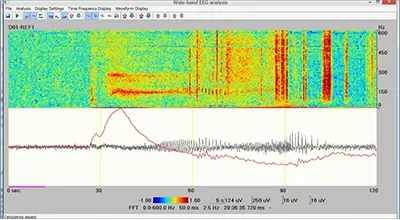 2. EEG monitoring in the ICU/ER
Nonconvulsive status epilepticus (NCSE) differs from the usual status epilepticus in that there is no body movement. In the absence of obvious head trauma, how do you diagnose the cause of impaired consciousness? NCSE is caused by abnormal electrical activity in the electroencephalogram (EEG), which cannot be detected by CT or MRI. Also, unlike normal epileptic seizures, the absence of external changes often delays detection, resulting in intractable epilepsy and brain damage.
There are studies that have found that some of the patients who are transported have impaired consciousness and many of the critically ill patients admitted to the ICU present with impaired consciousness, some of which have NCSE. So, what can be done to detect NCSE-induced unconsciousness? We need to measure the electroencephalogram. However, the problems with EEG measurement are that it is very time-consuming and labor-intensive, it is difficult to measure without skilled technicians, and because it measures weak potentials, it is susceptible to noise and the recorded EEG is difficult to interpret.
Is there any way to conduct...
EEG measurement simply and quickly in the ICU/ER?
Our EEG headset supports you !
Nihon Kohden's EEG headset can measure EEG with up to 8 waveforms using dedicated electrodes without skin preparation. Therefore, anyone can immediately start measuring EEG for screening purposes, regardless of skill or place. Because seizure waveforms predominantly appear in the temporal lobe and parietal lobe, the electrode arrangement allows measurement of the temporal and parietal lobes. The occipital area can also be measured by using a disk electrode. The built-in active amplifier is resistant to noise and can maintain high accuracy even in an environment with many devices, such as an ICU.   
As a unique feature of Nihon Kohden, a patient monitor manufacturer, the EEG headset can also be used for EEG measurement with a patient monitor.
Image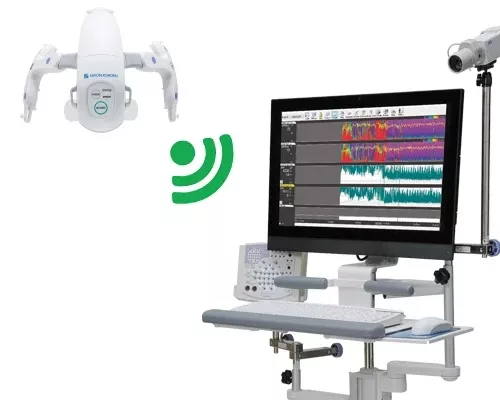 Image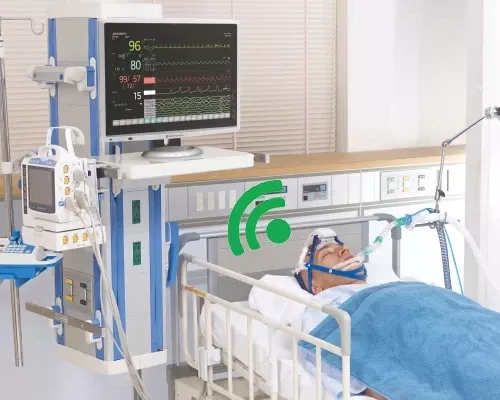 Case study - ER
Image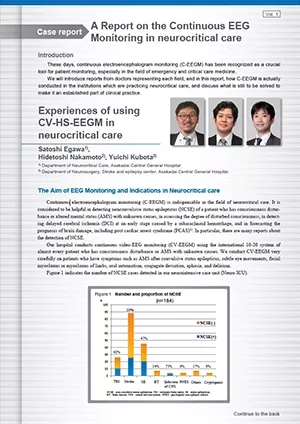 Because fewer electrodes are needed, even in a busy ER, it is possible to quickly isolate cases of unconsciousness without head trauma. Even in ERs with limited space, EEG can be viewed together with vital signs when the EEG machine is used in combination with a monitor.
Case study - ICU
Image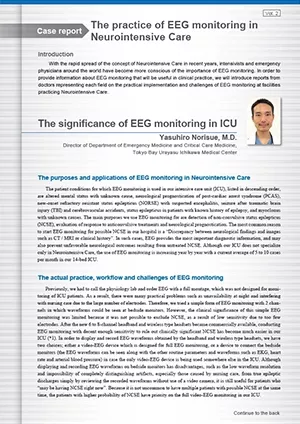 In critically ill patients with impaired consciousness the incidence of NCSE varies by disease, but it exceeds 10% after treatment of generalized seizure congestion, encephalitis, and subarachnoid hemorrhage, and 5% for intracranial hemorrhage, traumatic brain injury, ischemic stroke, and subdural hematoma. In addition, NCSE is also caused by medical diseases, e.g., metabolic encephalopathy, septic encephalopathy, toxic encephalopathy caused by psychotropic drugs, etc., and is used to provide early medical intervention.
Even with the simplification of EEG measurement, challenges still remain. EEG is extremely difficult to interpret and can only be done by a specialist.
The seizure detection program supports you !
The seizure detection program displays the suspected seizure by color in the trend graph area, which can be used as a guide to determine if the patient has a seizure or not.
Image